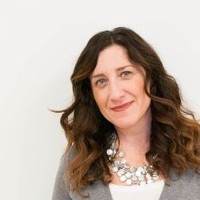 Suzanne Vidal is a freelance graphic designer who has been working with Gina LaGuardia Editorial Services (GLES) for many years. With more than 20 years of experience in the design industry, she has developed a strong background and superior skills in media arts, as well as a keen eye for leveraging smart design to meet goals and objectives.
Working with GLES,  Suzanne has worked on a variety of projects, including print design, website design, banner ads, email blasts, PowerPoint presentations, and more.
Suzanne also works at Casa Belvedere, The Italian Cultural Foundation as the Director of Development. In this role, she is involved in marketing, donor relations, managing fundraising initiatives, and special events. She works closely with the team to design and develop marketing material and strategies for all programs and special fundraising events. She also maintains the organization's website and social media presence.
Fun facts about Suzanne:
She is a native Staten Islander and currently lives there with her husband and two daughters.
She is a 200 Hour Registered Yoga Teacher, and  loves to practice yoga and meditation daily.
She appreciates all design and has a knack for decorating interiors.
Her daughters play basketball and she treasures the time she spends in various gyms watching them play a sport they love.